(an extremely detailed account of..)

UCI Oceania Mountain Biking Championships
Dunedin
18-21.03.10
A week has only just gone by and I am still on a buzz from last weekend's onslaught of bikes and riders in sexy lycra! I couldn't even sleep properly last weekend because I a) want to ride, b) want to watch people ride, or c) bikes filled my dreams!
It has been such an inspiring and fun experience hosting an international cycling event. I have an even bigger respect for the organising committee because of UCI compliance, even though it proved to be amusing! Scotty explained to us at drinks on Saturday night that the French (I'm sure he said French..maybe I was drunk?) had to explain our lack of note-taking to UCI: "commissaire, it will be done, these Kiwis eh, just do things their own way" Sure enough, they were suitably impressed with the track preparation. Choice job, Scotty.
Thursday was spent half at Uni ..wishing for it to be rid of.. and half out track lovin' with the Mountain Biking Otago team. I got the SOS txt from James about marshals and track compliance at lunchtime and headed up at after Uni for some seriously over-the-top taping, obstacle removal and sign placement. It was fun though and gave me a totally new perspective of the track. Scotty had been at it since 7am – what a champ! The highlight of the compliance was laying ugly 1970's carpet down on a board walk... I shudder even at the thought of it!
Friday was very long but totally awesome day, I was up Signal Hill from 8.30am til 1:30pm, marshalling the downhill. Those bloody Ausssies don't like their rocks! Justifiably so though, there were a couple of decent crashes due to "placed" rocks on a 3-jump chute called Tripe-T. As an appeasement measure, I radioed down to base and got someone up to come "take a look"..
Next time round the same boy said in his horrible accent "You got red of 'em, chears!".
I met a nice lady up on the hill called Tanya and turns out she's friends with Nola and Kay at Biketago and absolutely loves Greg Minaar! We had some pretty interesting yarns...
The rest of the arvo was spent hanging out with Lisa. Our visit to Bike Otago was mildly entertaining from my perspective - we picked up a CO2 cannister, it was amusing to witness after a quick phone call she can just charge it to her sponsor BBB. Guess that's the beauty of being pro-elite! After the shop visit, we did random shit like visited my old school (Otago Girls') and then went for a stroll at the beach. It's great fun showing visitors around your city. It was invaluable to get an insight into the life of racing at elite level, and receive some quality advice about life in general. What a gem!

5 o'clock rolled around suddenly so I blast-beated it up the hill to watch 4X. Those 4X'ers really know how to pull some mad hucks and entertain the crowd. It was great to see everyone from MBO and co-riders up there getting amongst it – that's what our sport is all about. Sarsha Huntington of Australia took out the ladies title ahead of talented young Kiwi Sarah Atkin, and none other than the mighty Wyn Masters mastered the men's race in true Wyn style: fast and furious.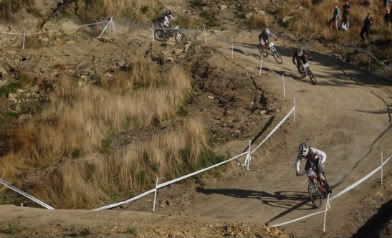 4X Final
Saturday morning was spent living the dream on my home track marshalling the XC race. It was incredible to soak up the atmosphere- the rustle of the forest, the screaming and laughing of the crowd and the constant rattle of derailleurs. I yelled the house down at Joel, Merrin, Scotty and Mary and did much the same to everyone else. Everyone was very receptive to vocal marshalling, which just fuelled the fire. It was incredible to see young Anton Cooper giving Cabin a run for his money. We should expect to see great things from Anton in the future. Joel managed to pull together a respectable 4th after horrid cramping problems, Merrin "came last" as she said (don't be like that Merrin - you did great) Scotty came 3rd in Masters and Mary rocked out a 1st U17 in her usual fashion

After a quick catch up with aforementioned riders, it was time to setup Gav and Lisa's supplies at the feed zone. It was the first time I'd ever been in the Elite feedzone but things were pretty self explanatory (or so I thought – hmm..) - stick your passes on, no running, stay out until your rider comes through. I managed to get a few quick photos of their starts and of Lisa cranking up through the first lap of Spooky. Gav was first through 21 minutes later and didn't want any juice so I yelled a bit of encouragement. At this point the Aussies were really fucking me right off – sickening accents, shaved legs and extreme arrogance really are a recipe for disaster!

Things started not going as well when Lis came up to the feed zone. She declined the juice and instead asked for her inhaler. So I jumped the fence, sprinted down to the car, sprinted back up the hill, jumped the fence again and ran over to the finish line where she'd stopped. Things were not looking good when the words "80%" and "lapping out" were being thrown around.

Unbeknownst to me at the time, I made two fatal mistakes here. The first was the inhaler outside of the feed zone (which could be waived) but the second, swapping bottles outside of the feed zone, was the real killer. Nah, I wasn't thinking straight, but what else do you do when your rider is having a hard time? Stand there and watch?

After Lisa had left to deal with another lap, the UCI Commissair interrogated me about the string of naughties I managed to pull. "You know, we're disqualifying her" "WHAT!?? FUCK!" I went pretty spear, not at him, but at my own stupidity, so went and sulked in the corner of the feed zone. Chris Mildon had seen this all unravel and said he was gonna try catch her before the next lap.
Without being all dramatic, I was feeling a bit off after that. It was a combination of many things, anger at my own stupidity, worry about whether she was ok or not, and stress about the reaction to being disqualified. For a split second I hated the race and despite seeing all my heroes racing and loving the atmosphere, I just wanted to leave. Fortunately, UCI came over and waived the disqualification, but fucking hell I was still really worried, I just didn't understand what was going on!

The next couple of Gav's laps went great and he took on his liquids and was consistently doing sub 22's. It seemed like forever before Lisa turned up and when she did finally arrive things weren't too good. Despite still being shitty and worried and (yea I'll admit it) upset for her, I decided it was best to keep out of the situation and leave her alone to go and deal with things a bit and have a rest. Don't think there is anything you can actively do anyway, all you can really do is be a shoulder...



That one time Rowena did lead Nic..


UCI dramas aside, the atmosphere at the pro-elite race was wicked! It was pretty much living the dream, seeing Nic Leary, Michelle Bellamy and Samara Sheppard all race at the same time was awesome. By the end Nic had a sick lead but there was only 10 seconds between 2nd 3rd and 4th place. It was good fun chasing Samara around a lap of spooky the day before and I managed to just keep up when she was practicing – what a speed demon - certainly has set the bar for my Elite aspirations.



Michelle leading the (cranking!) 2nd pack


After Gav's final lap Lisa shouted me a coffee and then we went our separate ways. Funnily enough, she was headed home and I was headed out for a smoking-fast lap. I was still feeling pretty shite after the feed zone incident so it was good to grind out the guilt and stress. I returned home fresh and ready to get loose with the crew at the pub.
We headed out to the Ra Bar for drinks to celebrate Scotty's new age number and Nic and Cabin's wins. Booking a table for 12 people proved to be a mish so we split up and met back up later. After a few too many drinks, lots of laughs, bits of singing and a depleted bank account we headed back to Celia's. In my half pissed state I ran the 3km home and literally collapsed into bed (not from alcohol!)..18 hours straight of MTB related activity really does take it out of ya!
Sunday morning was...interesting...and DH runs were cool but I was kinda over it after marshalling practice. You can tell this is the mildly hungover recollection of Sunday!

Tuesday night Lisa and I headed up Nichols Creek for a spin. Nichols is pretty key in the Dunedin Mountain Biking scene – if you haven't ridden Nichols, make it number one on your to do list. 6km of relatively undulating yet exciting and challenging climbing makes for 6km of equally impressive downhill. It was fun riding with Lisa, she has excellent flow up hill and didn't stop at all so it didn't make room for me to be lazy, so I pushed really hard to keep up. Half way up, we met Hamish, Chris Mildon, Sheryl and co., and proceeded to chase them up. No chance for me! We met them up at the top clearing and Hamish led us through the yet to be complketed greasy patch which was a muddy challenge.
After they had left, Lisa explained to me how to attack downhill. Dropped heels, weight forward on the front wheel, bent elbows to take impact and body positioned around the middle of the bike. This proved to be a recipe for success and I did not clip one tree nor jacknife one bank the entire way down! My concentration was 110% and my flow was feeling really good, I assaulted the switchbacks and felt my balance was really even. I even became ambitious enough to attempt pumping over small bumps and jumping larger ones. It's incredible how one small yet essential piece of advice can make such a huge difference to your ride.

Man, what an experience! I was on the go the entire weekend which was awesome cos I love being busy all the time. I'm surprised I've actually managed to string some words together about the weekend because usually when I'm excited I mash words together! Everything was just such a great fun learning curve. Nothing better than spending an entire weekend immersed in the racing atmosphere, hanging with the crew and getting out on some seriously classy track! Now we've proven we can do international well... will we do Worlds?